#FreedomofCensorship
#HashtagDomains to Secure Your Brand on the Decentralized Web
Own your immutable, unstoppable, NFT domain and enjoy. Read More...
Freedom of Speech

Unlimited / uncensored / fast / anonymous access to immutable internet infrastracture

Freedom of Commerce

Secure decentralized applications on the blockchain for individuals and organizations

Freedom of Information

Ensures Humanity has access to basic human rights and the pursuit of individual freedom
#Hashtag.Org Team
The bridge crew behind the camera
Eric Nester

#ericnester - President

Robert Bibb

#robertbibb - CEO

Mac Villanueva

#slave - Graphic Designer

ClusterH

#cluster - Developer
What we have visualized for the future of #hashtags in web 3.0 space.
We are much more than a domain name service. We are building an entire eco system! Hashtag Space is a gateway to valuable features such as Block Chain Emails, Decentralized Social Platform, Subscription Based Content Management and so much more.
Learn More
#SpaceTimelineContinuum
ROADMAP 2019 - 2024
Our timeline is as follows:
2019
A Star Is Born
• An #Idea was born
• Hashtag.org Acquired for $21,000
• #Space Discovery Began
• Domain Registry Formed
• Metagate Browser Integration
2020
The Team Grows
• Hashtag.Space App Development Begins
• Team Exploration and Building
• App feature Expansion
• SpaceBar Social Network Created
• Pandemic Apocalypse Averted (for now)
2021
App Expansion
• Affiliate Marketing Module
• TheBridge was born
• CapsLock Dmail Started
• MHC Decoupling / Control moved In-House
• Gamebling Universe 90% completion
2022
Growth of the Platform
• Tab Crypto Portfolio Connection
• CapsLock Dmail Completed
• Search Engine Option Created
• Bridge Expansion to ETH and BNB
• Dreaming Decentralized Streaming
2023
Growing For The Future
• Browser Plugin Creation
• Polygon/Eth Wallet Creation
• #HashtagCoin Launch
• Community Building / Social Distribution
• MoonPay Integration & Domain Minting
2024 & beyond
Looking Ahead
• Governance via Talley.xyz integration
• #HashtagCoin Market Making
• Continue Wallet/Browser Integrations
• VR / AR App Integration Discovery
• Gamebling Decenteralized Esports Launch
Latest From Our #Blog
Enjoy our latest blog postings and continue learning more about Hashtag.org and Web 3.0 technologies.
SEPTEMBER 01, 2022

Hashtag space new look has been launch yesterday...

Mauris sit amet diam felis. Pellentesque laoreet, diam eu pharetra fermentum, turpis justo interdum arcu, ultricies tristique lorem sem .

SEPTEMBER 01, 2022

Hashtag space new look has been launch yesterday...

Mauris sit amet diam felis. Pellentesque laoreet, diam eu pharetra fermentum, turpis justo interdum arcu, ultricies tristique lorem sem .
Don't miss out! Use the search below to find your next #domain!
A hashtag must begin with a hash (#) character followed by other characters, and is
terminated by a space, in between is where you find yourself...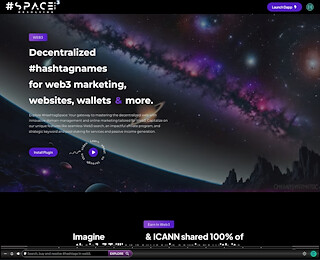 A decentralized domain name system, or DDNS, is a type of internet infrastructure that allows users to register and use domain names in a decentralized manner. This means that domain names are not managed by a central authority, such as a government or a traditional domain name registrar, but rather are decentralized and controlled by the users themselves.
What are the Benefits of a Decentralized Domain Name System?
One of the main benefits of a DDNS is that it allows for greater security and stability. Since there is no central authority controlling the domain name system, it is much harder for hackers or malicious actors to take down or manipulate the system. This makes DDNSs a good choice for users who are concerned about the security and reliability of their online presence.
Another benefit of a DDNS is that it can help to increase privacy and control over personal data. Traditional domain name systems often require users to provide personal information when registering a domain name, which can then be accessed by third parties. With a DDNS, users can register and use domain names without having to provide personal information, which can help to protect their privacy.
Examples of Decentralized Domains
One example of a DDNS is Hashtag.Org, which offers unique NFT domains called #domains that can be pointed to any web address or wallet. Users of the platform can access a range of web3 services, including decentralized email, streaming, social networking, and gaming, and can also use the platform's own cryptocurrency, $Hashtag, to make purchases or exchange it for other cryptocurrencies.
Pros and Cons of Decentralized Domains
Decentralized domains are domains that are registered and stored on a decentralized, blockchain-based platform, rather than on a traditional, centralized domain name system (DNS). Here are some potential pros and cons of decentralized domains:
Pros:
Censorship resistance: Decentralized domains are not controlled by a single entity or government, which makes them more resistant to censorship. This can be useful for individuals or organizations that want to publish content or operate websites that may be controversial or opposed by certain governments or organizations.
Improved security: Because decentralized domains are stored on a distributed, decentralized platform, they are less vulnerable to hacking and other cyber attacks. This can make them more secure than traditional domains, which are often stored on centralized servers that can be more easily targeted.
Increased control: With decentralized domains, users have more control over their own domains and can more easily transfer them to other parties. This can be especially useful for individuals or organizations that want to retain control over their online presence and assets.
Cons:
Complexity: Decentralized domains can be more complex to set up and manage than traditional domains. This can be a barrier for some users who may not have the technical skills or resources to work with blockchain-based platforms.
Limited adoption: Decentralized domains are still a relatively new technology, and their adoption has been limited so far. This can make it harder for users of decentralized domains to reach a wide audience, as many people may not be familiar with how to access websites using these domains.
Limited functionality: Decentralized domains may not have all the same features and functionality as traditional domains, such as support for certain types of web content or the ability to use custom subdomains. This can limit their usefulness for some users.
Get Started with Decentralized Domains at Hashtag.Org
A decentralized domain name system is an internet infrastructure that allows users to register and use domain names in a decentralized manner, without the need for a central authority. This can provide benefits such as increased security and stability, as well as greater privacy and control over personal data. Hashtag.Org is one example of a DDNS that offers users a range of web3 services and its own cryptocurrency.