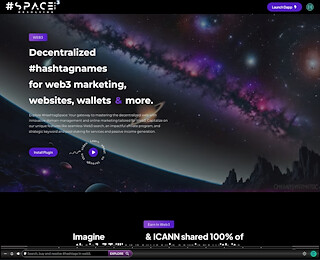 Decentralized apps, also known as dApps, are a new type of software that are changing the way we think about online applications and services. Rather than running on a central server, dApps operate on a decentralized network, which offers several benefits such as resistance to censorship and tampering, transparency and accountability, and scalability.Â
While dApps are still in the early stages of development and face some challenges, they have the potential to disrupt a wide range of industries and revolutionize the way we use the internet.Â
In this article, we will delve deeper into the concept of decentralized apps and explore their potential impact on the future of the internet.
Difference Between Centralized & Decentralized Apps
Decentralized apps, also known as decentralized applications or dApps, are a type of software that runs on a decentralized network rather than a central server. This means that they are not controlled by any single entity, but rather operate on a peer-to-peer network.
What are the Benefits of Decentralized Applications?
One of the main benefits of decentralized apps is that they are more resistant to censorship and tampering. Because they are not controlled by any single entity, it is much harder for them to be shut down or altered by external forces. This makes them particularly useful for applications that require a high degree of security and trust, such as online voting systems or financial transactions.
Another advantage of decentralized apps is that they can be more transparent and accountable. Because they operate on a decentralized network, it is easier to track the actions and transactions that take place within the app. This can help to promote greater trust and confidence in the app and its users.
Decentralized apps also have the potential to be more scalable than traditional centralized apps. Because they operate on a decentralized network, they can more easily handle a large volume of users and transactions. This makes them a good choice for applications that need to handle a large amount of data or a high volume of users.
What are the Different dApps?
There are several different types of decentralized apps, including those that run on blockchain technology, such as Bitcoin and Ethereum, and those that use other decentralized networks. Some examples of decentralized apps include social media platforms, marketplaces, and gaming apps.
What's the Best Decentralized Application?
Hashtag.Org is the best application for the decentralization movement because Hashtag.Org offers all of the best web3 services and platforms in a web3 ecosystem. All you need is a hashtag domain (#domain) to get started.
Use Decentralized Apps to Get Around Censorship and Data Harvesting
Decentralized apps are still a relatively new technology, and as such, they are not without their challenges. One of the main challenges is user adoption, as many people are not yet familiar with decentralized apps and how they work. In addition, there are concerns about the security and stability of decentralized apps, as they are still in the early stages of development.
Despite these challenges, decentralized apps are a promising technology with a lot of potential. As they continue to evolve and gain wider adoption, they have the potential to disrupt a wide range of industries and change the way we think about online applications and services.
Â